PVC Drip Trays
The fiberglass drip pan is
placed on the floor under
the work platform to
capture oil from the drip
trays.
Fiberglass
Drip trays hang at an angle underneath the
work platform to collect spilled oil and drain
toward drip pan.
Light weight PVC
Hardware provided, easy to install
32″W x 96″L
(Trays sold separately)
Use with drip pan to ensure oil capture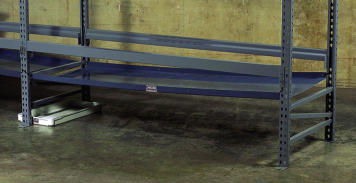 Drip Pan

The drum support
bracket mounts to
the work platform
to accommodate a
120# keg drum,
which can be used
for disposal of used
oil filters or trash.
Powder Coated for durability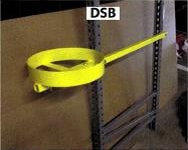 Stairs can eventually become slick and a
safety hazard. The stair tread cover restores
steps to a like new condition.
Installs on concrete, wood or metal grating
Resistant to oil and other chemicals
Fiberglass with crushed quartz molded in
Pre-cut to your measurements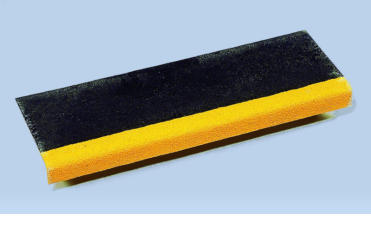 Our footstools are available in 4 heights. They
are molded fiberglass, (with the exception of
the FS-AA-A which is made from aluminum)
with a durable, non-slip surface and a wide-
angle base with rubber feet for stability.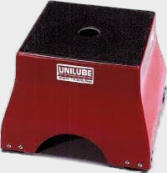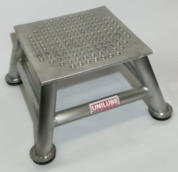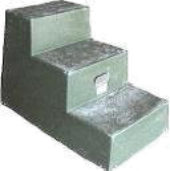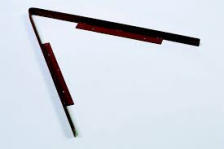 The tire guide leader aids in
aligning vehicle to drive over
the pit.
Mounts on shop bay floor
Easily replaceable when
necessary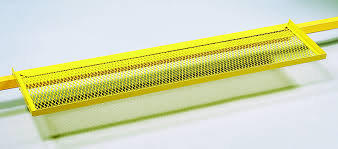 When attached to the work platform,
the work platform shelf allows the
technician to have tools and other
items handy while working.
Durable powder coat
Available in 36" & 48" lengths
Vacuum Hose/Air Hose Console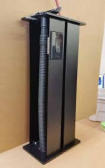 Vacuum hose console
with On/Off toggle
switch mounted on one
side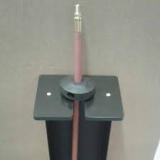 Easy access air hose
console that matches
our VC-Stand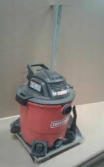 Vacuum Ceiling Bracket
Galvanized
Easy installation
Vacuum not included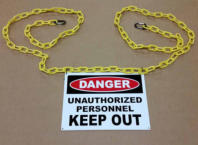 Part # Unauthorized Sign As
Unauthorized
Personnel sign on
12' of chain with 2
carabiners for easy
attachment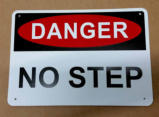 Part # No Step Sign 10 Pack
Signs attach to our
pitguards to remind techs
not to use as a walkway
or crosswalk. Not walking
on your pitguards helps to
extend their service life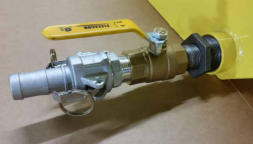 Part # RDP-Drain Kit 1" NPT
Connects to our 1.5" Rolling Drain Pan fitting
and reduces to a 1" barb fitting.
1.5" plug
1 male Cam Lok
1" nipple
1 female Cam Lok
1" ball Valve
1.5" to 1" reducing bushing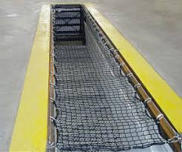 Our petroleum-resistant synthetic nets can
provide a safer environment for customer and
service tech and are a low cost alternative to
our Pit-guard covers. They come in a variety
of widths and lengths to accommodate
different sized openings. Call 800-326-1711 or
email us for a quote today.
Includes:
Lightweight
Easy installation
No maintenance required
Computer Station Accessories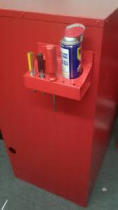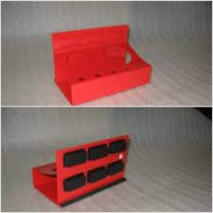 Part # Aerosol Can Holder
Magnetic back holder can
hold 2 aerosol cans and up
to 5 screw or Torx drivers

Quick Lube Center
oil change accessories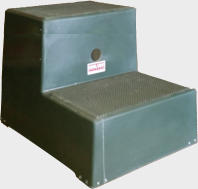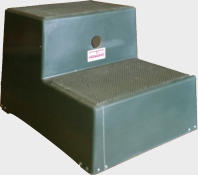 Rolling Drain Pan Accessories
The RDP- Diverter measures 11" H x
10" across the top and narrows
down to 4". It is made to attach to
our RDP-Splashguard or use as a
hand held diverter.
The RDP-D/LD is larger, at 20"H x 15" across the
top and narrows down to 6 ½". It is hand held 3
teeth at the bottom to grip the openings in our RDP
screen and is great for use on taller vehicles SUV's
or lifted trucks

Part # RDP – D/LD Drain Diverter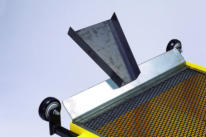 The Splash Guard is
made from galvanized
steel and helps to
prevent splash-back of
oil travelling from the
diverter to the rolling
drain pan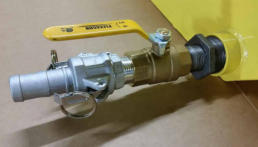 PPart# RDP-Drain Kit 1" NPT
Connects to our 1.5" Rolling Drain Pan fitting and
reduces to a 1" barb fitting.
Includes:
1.5" plug
1 male Cam Lok
1" nipple

1 female Cam Lok
1" ball Valve
1.5" to 1" reducing bushing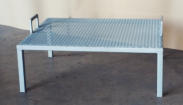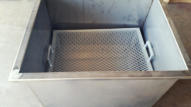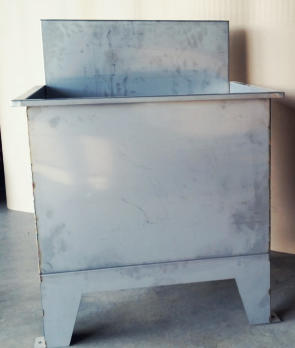 Our parts washing sink is constructed of
stainless steel with a galvanized parts table
(28'W x 22"D x 9"H) that resists rusting. It can
be set up and used anywhere temporarily or
by using the holes at the bottom of the feet,
can be mounted in a permanent location and
plumbed to your collection tank.
14 gauge stainless steel construction
Galvanized parts cleaning table with large "D"
shaped handles for easy placement or removal
Mounting holes that accommodate 3/8" anchors
1" NPT fitting for plumbing
40 gallon capacity
Overall dimensions 42"H x 33"W x 27D